Choosing your first car is tough. Your first car won't just be your ride to work, it's the trusty companion that will help you ride through life. However, your car companion is also an expensive investment – making choosing the right car pretty daunting.
We understand that choosing the right car is tough. To you make this important choice. We have put together a list of the 15 best cars for beginners and young drivers.
| Brand | Model (Year) | Base Level Specs | NHTSA Safety Rating |
| --- | --- | --- | --- |
| 1. Honda | Fit (2020) | 1.5L engine with 130 horsepower | ★★★★★ |
| 2. Chevrolet | Cruze (2019) | 2.0L engine with 137 horsepower | ★★★★★ |
| 3. Hyundai | Ioniq (2020) | 38.3-kilowatt battery with 134 horsepower | Rating in progress |
| 4. Mazda | CX-3 (2020) | 2.0L engine with 155 horsepower | ★★★★★ |
| 5. Jeep | Renegade (2020) | 2.4L engine with 180 horsepower | ★★★★☆ |
| 6. Hyundai | Venue (2020) | 1.6L engine with 121 horsepower | ★★★★☆ |
| 7. Kia | Optima (2020) | 2.0L engine with 138 horsepower | ★★★★★ |
| 8. Ford | Fiesta (2019) | 1.6L engine with 120 horsepower | ★★★★☆ |
| 9. Honda | Civic (2020) | 1.5L engine with 158 horsepower | ★★★★★ |
| 10. Fiat | 500 (2020) | 1.4L engine with 100 horsepower | Rating in progress |
| 11. Subaru | BRZ (2020) | 2.0L engine with 205 horsepower | ★★★★☆ |
| 12. Volkswagen | Golf (2020) | 1.4L engine with 147 horsepower | ★★★★★ |
| 13. Nissan | Kicks (2019) | 1.6L engine with 122 horsepower | ★★★★☆ |
| 14. Mazda | CX-30(2020) | 2.5L engine with 186 horsepower | ★★★★★ |
| 15. Toyota | Prius Prime (2020) | 1.8L engine with 121 horsepower | ★★★★☆ |
---
Choosing The Best Car For Beginners
There are a lot of car models to choose from, but it also makes choosing the right car for you difficult with so much option-anxiety. Before we tell you all about the 15 best cars for beginners and young drivers, let's briefly talk about how to choose a car that suits your needs.
Defining Your Budget
Before you reach the car yard and decide you want a Ferrari, you need to figure out your budget. If you are paying for the vehicle outright this is at your discretion, but it's a different story if you are looking at getting a loan.
As we are not vehicle finance experts, we recommend you use a car affordability calculator. However, here are three quick budget-defining questions you can ask yourself in the meantime:
How much money can I afford to spend on the car down payment?
How much money am I willing to pay monthly for my car?
How long can I afford to repay a car loan?
The 15 Best Cars For Beginners And Young Drivers
In this section, we will review the safest cars for teens and the best cars for first-time drivers. For each vehicle, we will review its specs and compare its pros and cons. We will be reviewing the base level model for each vehicle. As prices are subject to change with your region we will use the following price guide.
| Price Range (for the base model) | Symbol |
| --- | --- |
| $10,000 – $20,000 | $ |
| $20,000 – $25,000 | $$ |
| $25,000 – $30,000 | $$$ |
| $30,000+ | $$$+ |
---
Honda Fit
Gold Medal Winner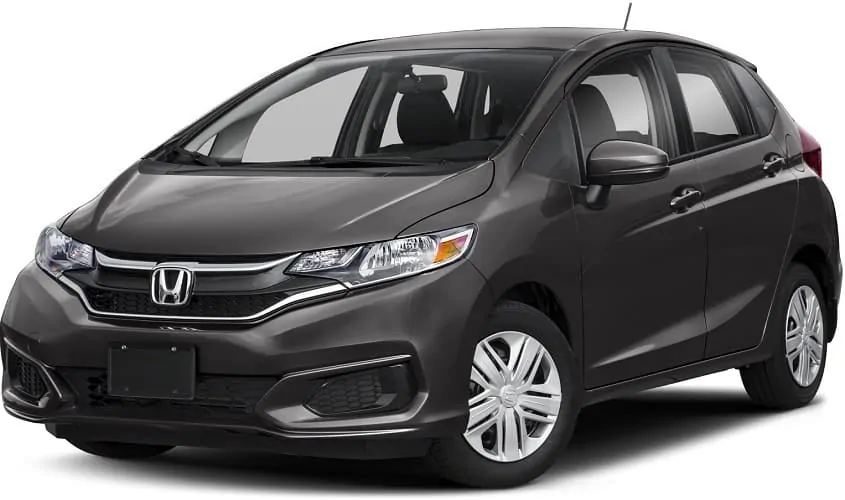 Manufacturer: Honda
Price Range: $
Specs: 1.5 liter engine with 130 horsepower
Pros: The Honda Fit is a great little car with a lot of personality for a steal of a price. This car runs on the smell of an oily rag (read: fuel-efficient) but has a large enough interior to comfortably fit five people. It's practical, reliable and will cost you barely anything in maintenance.
Honda cars are notoriously built like tanks, so expect to have this car until it literally falls apart around you. With a touchscreen in the base model and a host of safety features, this would be our pick (given that the funky Nissan Juke isn't hitting the US market anytime soon).
Cons: The Honda Fit is practical, but it isn't pretty. If you are looking for a car with style you might not be impressed by what the Fit has to offer. The speakers in this car are also not very impressive, but those are easily swapped out for a little extra time and money.
---
Chevrolet Cruze
Silver Medal Winner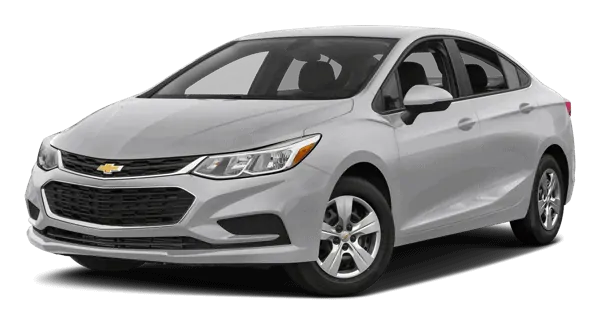 Producer: Chevy
Price Range: $
Specs: 2.0 liter engine with 137 horsepower
Pros: The Chevrolet Cruze is definitely a value buy. Compared to some of the other cars on this list, you'll pay pennies for this vehicle. It's also one of the safest with lane assist, departure warnings, collision warning and a host of other sensors. The interior is smooth and comfortable for passengers with a good audio system. If you're a nervous driver, this compact little car is made for you.
Cons: The Chevrolet Cruze has slow acceleration for a new vehicle, and with only 137 horsepower you won't be able to use this car for drag racing. The boot space is also quite small, and the front of the car is quite low. If you have a steep driveway it might scratch quite easily. However, if you aren't looking to go fast you'll go far in a Cruze. You'll just want to make sure you change your oil filter regularly to keep the fuel economy good.
---
Hyundai Ioniq
Bronze Medal Winner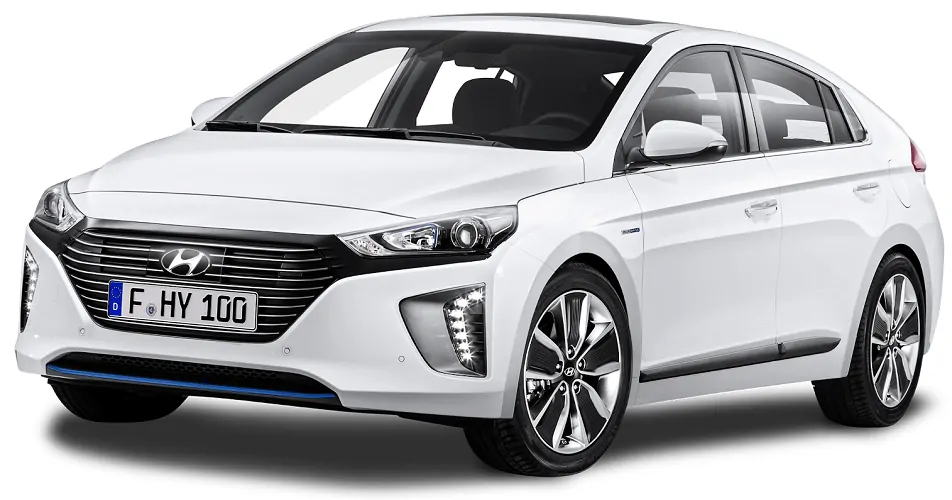 Manufacturer: Hyundai
Price Range: $$
Specs: 38.3-kilowatt battery with 134 horsepower
Pros: Here at TheCarXpert, we love a green option! This hybrid vehicle is super-efficient, which will save you money on gas and electricity. This car has snappy steering and is nice and comfortable. It can even go 29 miles without gas – which is great if you've ever shamefully called AAA 2 miles from the petrol station.
Cons: Green is great, but this car needs to recharge its batteries regularly. If you want to tow anything, this car isn't going to help you. It's also low to the ground and is only suited to being a city vehicle. College? Yes! Camping? Absolutely not!
---
Mazda 3
Budget Buy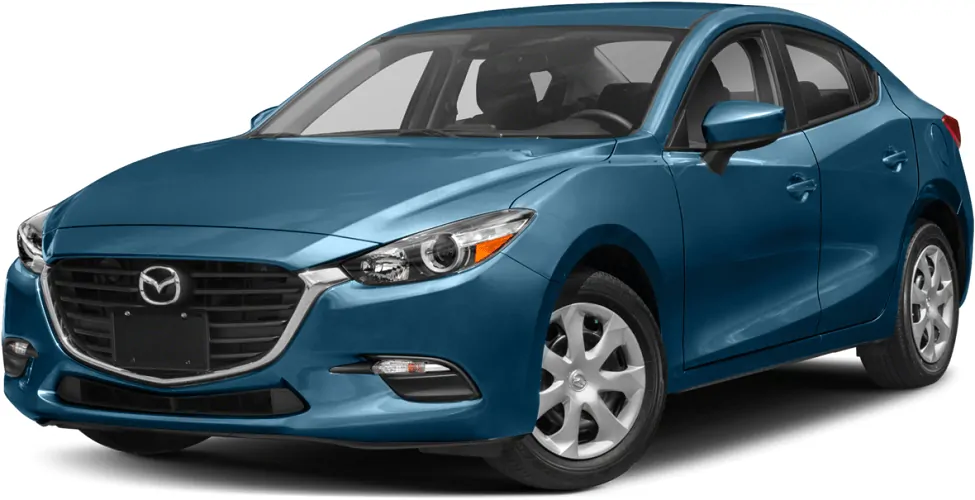 Manufacturer: Mazda
Price Range: $
Specs: 2.0-liter engine with 155 horsepower
Pros: The Mazda 3 is one of the cheapest cars in the Mazda range, making it a very affordable choice for young drivers. All Mazda interiors are fairly similar, so if you are used to driving a Mazda you won't get any nasty surprises.
This car is very, very safe and has some nice interior equipment – seat warmers, Bluetooth, AUX capacity. All in all the Mazda 3 is a good option for nearly every driver, as you get exactly what you expect.
Cons: Mazda cars are reliable options, but we find them a little boring. Some drivers find the steering on the Mazda range makes them a bit nauseous. The view from the driver's seat also makes it difficult for shorter people to drive. The seats get quite hot in summer, and the leather that is standard across the range doesn't suit every climate. If you live in the south you might want to check the air conditioner before you drive away.
---
Jeep Renegade
Special-Winner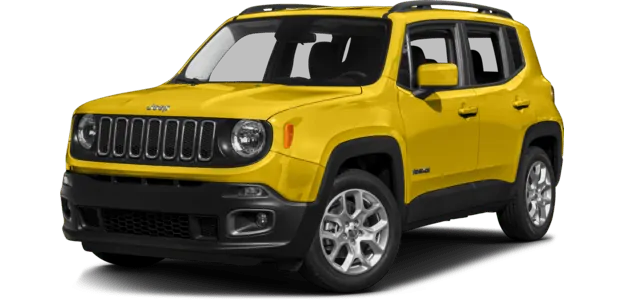 Manufacturer: Jeep
Price Range: $$
Specs: 2.4 liter engine with 180 horsepower
Pros: The Jeep Renegade is the cheapest Jeep on the market, at a surprisingly affordable price for young drivers. It's an SUV, so it offers towing, a large backseat and is high enough off the ground to go muddin'. If you're an outdoor type, this car matches your lifestyle without the down payment breaking the bank. The shape of the Jeep makes it distinct on the road and it's fun to drive up-country. The headlights are also quite impressive for a small vehicle.
Cons: Jeeps will make you look like GI Joe, but they will cost you Joe's arm, leg and kidney. If you need authentic parts, you can expect to pay a pretty penny for them. If you get any upgrades on this vehicle, expect to pay for a lot of gas. The speakers could also use an upgrade, but that's easy.
---
Hyundai Venue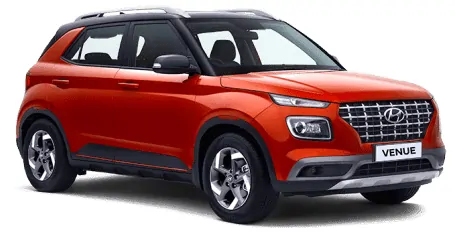 Manufacturer: Hyundai
Price Range: $
Specs: 1.6 liter engine with 121 horsepower
Pros: The Hyundai Venue is a cute little SUV with a comfortable interior and plenty of safety features. It sits high enough on the road to give good visibility to the driver but isn't hard to get into. There is good boot space and plenty of seating room – which is impressive for such a tiny SUV.
Cons: The Venue might look cute, but some drivers have reported unattracted and coarse sounds coming from the engine. This car also isn't available in an all-wheel-drive option. The power in the base level is lacking, but thankfully upgrades aren't expensive.
---
Kia Optima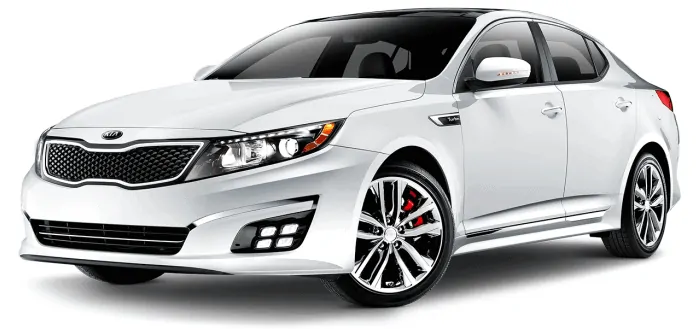 Manufacturer: Kia
Price Range: $$
Specs: 2.0 liter engine with 138 horsepower
Pros: The Kia Optima is the fastest sedan we've driven for a while. The accelerator is incredibly receptive, and it's also a very stable, smooth car to drive. It's very quiet and very comfortable. As a driver, it's high enough on the road for good visibility but low enough not to seem like a 4WD.
The vehicle is very safe and comes with very responsive steering and standard fog lights. It's also got heated mirrors for frost, making it perfect for our Northern friends. Overall, we are impressed by how many safety features they managed to cram into such a small car.
Cons: The Kia Optima is safe, but a little boring. It's got a classic sedan look, which does not work for everyone. It's also low to the ground with a small boot space. The driver will be comfortable, but everyone in the backseat will be a little squished. The car isn't as fuel-efficient as we'd expect for a car on the 'Best Cars For Beginners and Young Drivers' list but it's got decent horsepower for its engine size.
---
Ford Fiesta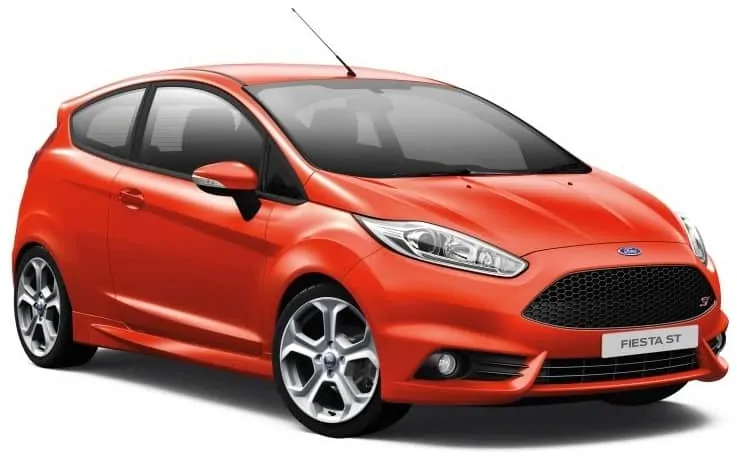 Manufacturer: Ford
Price Range: $
Specs: 1.6 liter engine with 120 horsepower
Pros: The Ford Fiesta is small, fun, and full of fuel economy. It drives very quietly and is very stable on the road. The Fiesta also has MyKey functionality, meaning the car can be set to limit the drivers' speed and radio volume and to remind you to wear a seatbelt. This car is also full of safety features, from traction control to dual-front airbags.
Cons: The boot space is too small in later Fiesta models. Any passengers you drive with will also have to hug their knees, but the driver's seat is pretty comfortable. The base model of the Ford Fiesta lacks a little 'punch' on the pedal, but that shouldn't scare you away if you aren't a race car driver.
---
Honda Civic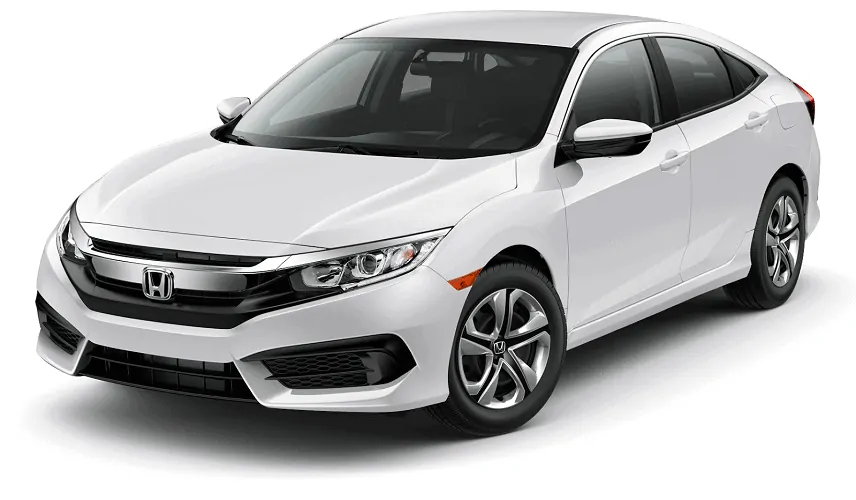 Manufacturer: Honda
Price Range: $
Specs: 1.5 liter engine with 158 horsepower
Pros: The Honda Civic is a favorite among drivers young and old. Built like a tank, this car is incredibly durable. The inside is comfortable, practical, and easy to maintain – with plenty of backseat and boot space for passengers.
The car also has decent acceleration in the base model, and the vehicle handles itself really well on the road. When we think Honda, we tend to think dependable and reliable – and that's true of the Civic range too.
Cons: We've noticed that the Civic can be a little hard to get into, as it is very low on the ground. There have also been some minor (but frequent) mechanical flaws reported in earlier models.
---
Fiat 500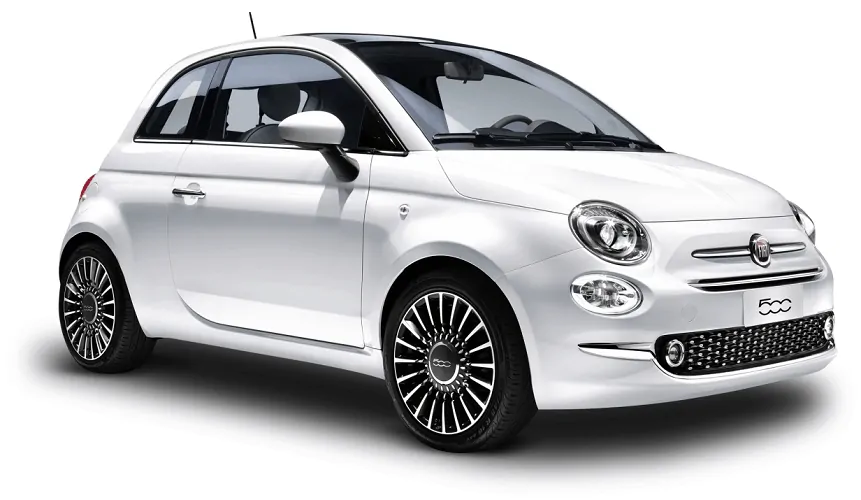 Manufacturer: Fiat Chrysler
Price Range: $
Specs: 1.4 liter engine with 100 horsepower
Pros: The Fiat 500 is one of the most recognizable cars on the market today. It's no box with wheels – that's for sure. This car is stylish, affordable, and vaguely feminine. It's also originally from Italy, encapsulating all of the classic aspects of European car design – from the durable metalwork to the shiny body paint.
Owners often describe this car as 'nippy', which is very accurate. It's got responsive steering and good brakes – even if the gears are odd. The interior is unique and takes a bit of time to get used to, but there's no reason to avoid the Fiat for its appearance.
Cons: The Fiat 500 is cute, compact and attractive but you get the horsepower won't get you far. There will be no towing, cruising or camping with the Fiat, and there's no boot space either. Some owners have also had troubles with the car vibrating, and with engine parts needing replacing sooner than they expected. Sure, the Fiat is playful – but is it practical? Depends where you live. For the city, yes. The country… probably not.
---
Subaru BRZ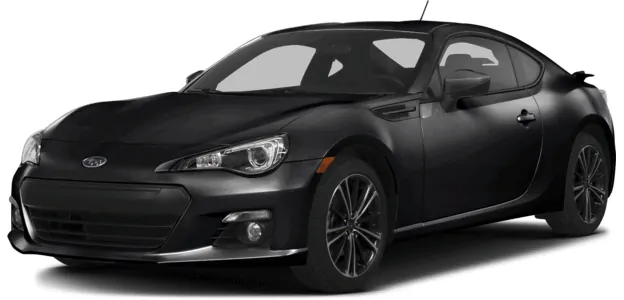 Manufacturer: Subaru
Price Range: $$$+
Specs: 2.0 liter engine with 205 horsepower
Pros: The Subaru BRZ is cool, fast, and fierce. If you want a sports car but don't have the dollars, this vehicle is a good compromise. It's powerful and built for racing, with rear-wheel driving. This isn't the kind of car you drive when you're old, so enjoy it while you're young enough to look cool in it.
Cons: While this car is so cool it's shaped like a Hot Wheel, it's the most expensive car on this list. It's also a fuel guzzler and is too low to the ground for country drivers. This car also only has two doors, so it's best suited for people who drive solo or with one friend.
---
Volkswagen Golf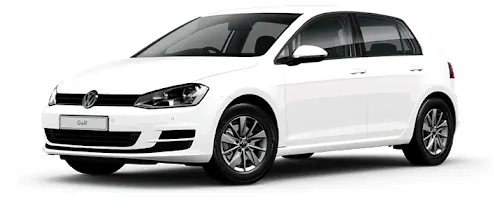 Manufacturer: Volkswagen
Price Range: $$
Specs: 1.4 liter engine with 147 horsepower
Pros: The Golf is a classically reliable car, with a nice interior that is very driveable. Tackling corners in a Golf is fun, as the car sticks to the road and accelerates at a very pleasing pace. The suspension on these cars is impressive, and newer models also include Wifi Hotspots.
Cons: As a previous Golf owner, be careful about the cost of fuel. Golfs glug down the premium fuel like you wouldn't believe and repairs are expensive after a couple of years. Later models have also been rumored to have a touchy brake, and some driver-assist functions have been removed in the latest models.
---
Nissan Kicks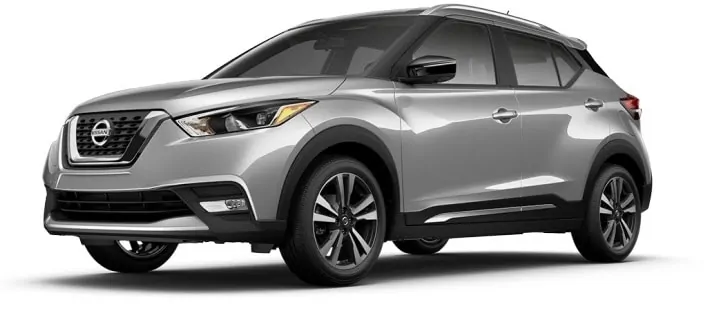 Manufacturer: Nissan
Price Range: $
Specs: 1.6 liter engine with 122 horsepower
Pros: The Nissan Kicks is another cute little SUV in the Nissan range. The fuel economy is great and the safety features are numerous. The interior is fairly spacious and comfortable for the driver, but the back is a little uninspiring.
Cons: For an SUV, the Nissan Kicks is awfully low to the ground. It may look like a 4WD, but it behaves like a city Sedan. Its acceleration is slow and some of the interior fittings aren't made with high-quality materials. This is definitely not Nissans best vehicle.
---
Mazda CX-30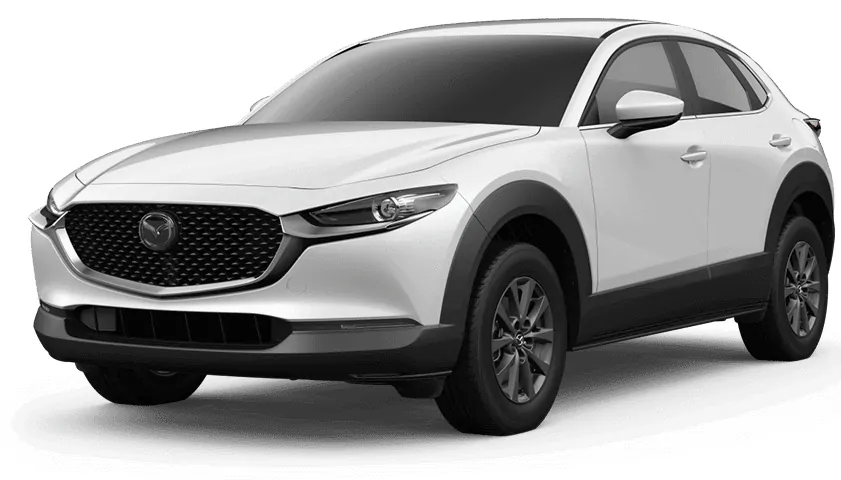 Manufacturer: Mazda
Price Range: $$
Specs: 2.5 liter engine with 186 horsepower
Pros: The horsepower on the Mazda CX-30 is very impressive, so the car looks like a sedan but drives like a 4WD. If you want a bit of extra space, this is also a fantastic option – as the inside is roomy. The CX-30 is also full of new safety features and looks like a luxury car from the inside. It also costs like a luxury car while delivering a dollar-store worth of quality.
Cons: Like many cars in the Mazda range the blindspots in the CX-30 are quite pronounced. The fuel economy also leaves a lot to be desired and the transmission isn't up to the standard of most modern vehicles.
---
Toyota Prius Prime

Manufacturer: Toyota
Price Range: $$$
Specs: 1.8 liter engine with 121 horsepower
Pros: The Toyota Prius Prime is a great little green car. It can drive 25 miles without using gas and has the kind of fuel economy that will save you money long term (even if the downpayment is higher).
Cons: The engine on the Prius Prime is very loud, which is strange because the acceleration is quite slow and there is barely any horsepower. The boot space is practically non-existent, and many drivers have reported excessive maintenance costs when there are problems in the electrical system.
---
Choosing Your Car Features
While a two-seat convertible might be trendy, it's not a practical investment for drivers without garage space. Every driver has different needs, and your new car must meet these needs. Here, we've listed a brief list of important features to consider when buying a car.
The number of seats and doors.
How much boot space the car has.
How fuel-efficient the car is.
Whether the car is a two-wheel-drive (2WD), a four-wheel drive (4WD) or an all-wheel-drive (AWD).
Whether you need air conditioning and heating.
TIP: Depending on federal and local laws, cars without air conditioning and heating may not be considered 'roadworthy', as these functions are required to run a vehicles defoggers.

Depending on federal and local laws, cars without air
conditioning and heating may not be considered 'roadworthy', as these functions are required to run a vehicles defoggers.
Choosing Between A New Or Used Car
Choosing between a new and used vehicle is tricky. While used vehicles are cheaper, someone else's butt has been in the driver's seat which isn't always appealing. While the nuances between cars are vehicle specific, we've listed some of the pros and cons of new and used vehicle vehicles below.
| | New Vehicle | Used Vehicle |
| --- | --- | --- |
| Pros | You will get the full manufacturers warranty and the car has no wear-and-tear from previous owners. You can also pay for customized features like paint, spec level and entertainment systems. You get the latest safety, driver assist and infotainment systems. | Used vehicles are cheaper upfront, and you can bargain the price down. Used vehicles less than 5 years old are almost identical to the latest model. You are free to service the vehicle wherever you like, saving you money on servicing. |
| Cons | New cars are far more expensive than used cars, decreasing 1/4th in value after the first month. Many countries tax newer vehicles at a higher rate or apply higher sales taxes. You may need to service the car with its manufacturer to maintain vehicle warranty longterm. | You cannot choose the car's colour, spec level or internal features. Older cars may not have up-to-date safety features and infotainment systems. A cars maintenance costs can increase over time, sticking you with higher servicing costs. |
TIP:

If you'd like the price of a used car but the guarantee of a new vehicle, try looking for 'demonstrator' vehicles. These are the vehicles that car dealerships show potential customers, meaning they are used but not thrashed.
Choosing Essential Safety Features
We care about the safety of all of our readers. While we understand that saving money is important, safety is our number one priority. To keep you safe while you drive, we've listed some absolutely essential car safety features for you to think about when looking at potential vehicles.
Front and rear defoggers. Defoggers keep your front and back windows clear, allowing you to see other cars, your surroundings and hazards. In many countries, these are mandatory for all cars.
Dual front or driver-side airbags. In the event of an emergency, front-seat airbags are lifesaving. While no one wants to think about crashing, your car must be prepared for anything – even total destruction.
ABS brakes. ABS brakes, or an 'anti-lock braking system', prevent your brake from seizing when you need to press it fast and hard. 
Electronic Stability Control (ESC). ESC is a form of traction control that brakes when the car veers suddenly. This has been standard since 2012, but some pre-2012 vehicles may lack the feature.
Now that we've covered how to choose the right car for you, let's get into reviewing the 15 best cars for beginners and young drivers.
---
Car Checklist For Beginners And New Drivers
Whether you're buying a new or used car, it's always a good idea to check the car is in good working order before you put the pedal to the metal. In this section, we're going to give you a complete list of everything you can check before you drive out of the dealership.
Inspecting New Cars
While new cars are fresh from the factory, they aren't perfect. You don't need to inspect them as thoroughly as used cars, but a quick inspection is essential to ensure you're getting what you paid for (even if they're on our 'Best Cars For Beginners and Young Drivers' list).
Outside
Scratches: check that there are no scratches, dents or sign of damage to the body of the vehicle.
Keys: test both keys to ensure they work as intended.
Inside
Electronics: test all electronics, including the entertainment system, lights, heating and air conditioning.
Upholstery: Check the upholstery is undamaged.
Seals: ensure you can open all doors, windows, the boot and the hood. These should work smoothly.
Inspecting Used Cars
Each used car has a unique history. To ensure the car is roadworthy, always have an independent mechanic inspect the vehicle. However, it's also important that you inspect the car yourself. After conducting all of the inspections in the 'new cars list, try these additional checks to avoid getting scammed.
Outside
Tires: check the quality of the tires. If you need to replace the tires after buying the car, factor it into the downpayment on the vehicle.
Glass: glass is very expensive to replace. Check there are no cracks or chips anywhere on the vehicle.
Rust: rust starts under a vehicle. Always check for signs of rust.
Engine
Accelerator: check the accelerator by turning the car on and letting it idle. Then, push the accelerator. If you see smoke, the vehicle may have piston or valve stem issues.
Oil: after the car has idled for a few minutes, check for oil leaks or black smoke from the exhaust pipes. Both of these are signs the oil injector system has mechanical faults.
Radiator: check the water for any signs of oil.
Oil filter caps: check the oil filter caps are free of residue. This is a sign of cracked cylinder heads or leaking gaskets.
Battery: check the expiry date on the battery. If it needs to be replaced shortly, factor this into the downpayment cost of the vehicle.
Test Drive
Brakes: ensure the brakes work when pressed.
Gears: ensure the gears change smoothly.
Temperature: ensure the temperature of the car stays within the appropriate range while driving.
Steering: ensure the steering wheel works correctly, and the vehicle does not veer as you drive.
Engine noises: listen to the engine, and ensure you do not hear any strange noises.
Exhaust: ensure the exhaust pipe is not leaking liquid or overly black smoke.
Speedometer: test if the speedometer is working correctly by asking a passenger to monitor the speed on google maps.
Suspension: try driving over a bumpy surface to test the vehicle's suspension.
---
Inspection Checklist
There's a lot to think about when buying a car, from engines to exhaust pipes – but don't stress!
We've compiled this checklist to make choosing the right vehicle for you easy. We've included everything in this buyers guide. If you'd like to download a copy, please click below – we've even included a handy table to help you compare your car options.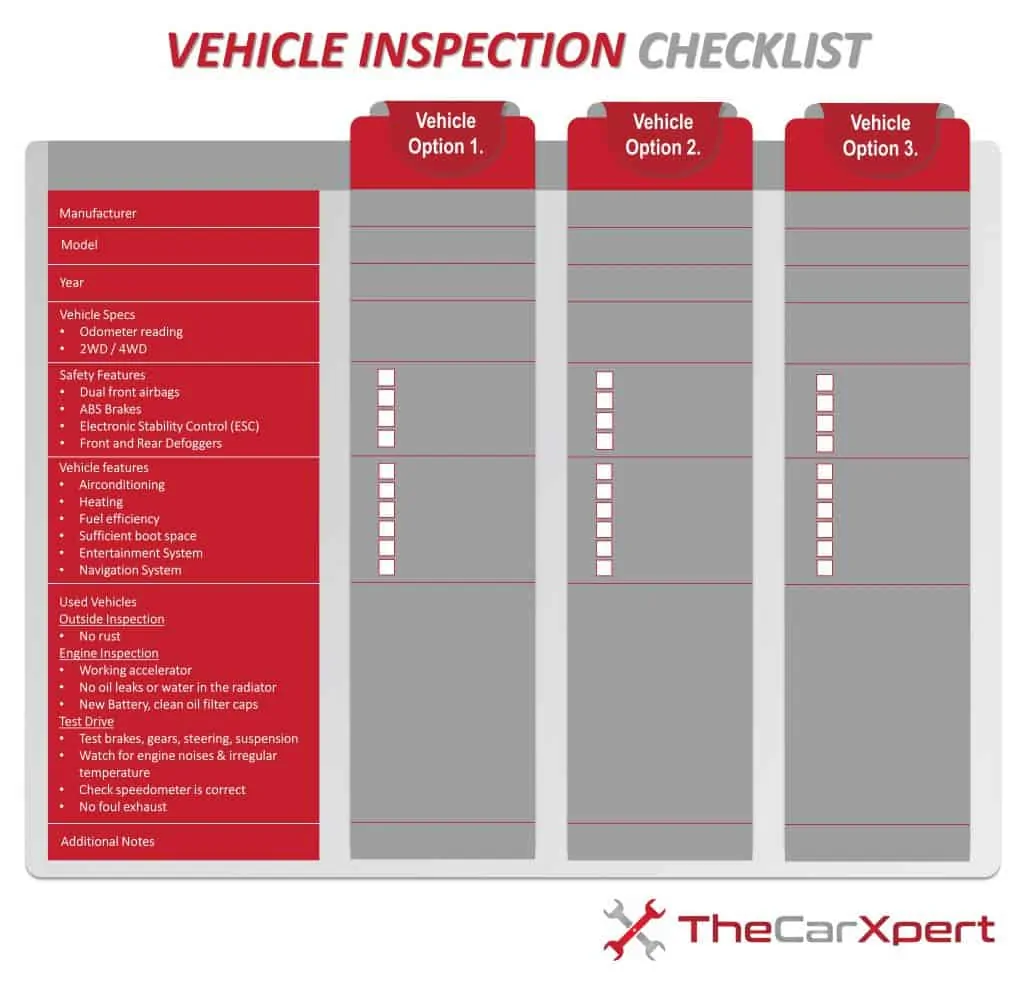 ---
Conclusion
At the end of the day, the car you buy is a deeply personal decision. A feature one driver considers essential will go unused by other drivers. As long as your vehicle meets your needs and keeps you safe you can't go wrong.

Garry is the happy owner of a funky 2018 Nissan Juke Ti-S AWD. After growing up around his family's mechanics shop, he is passionate about bringing budget-friendly car care to every driver. Garry has a business degree and is a car enthusiast.