A car organizer is essential. It provides a home for loose items such as car phone chargers, gadgets, a change of clothes, games, and emergency supplies, helping to keep things tidy.
This everyday item becomes even more necessary when there are kids involved. Without a car organizer, a car can quickly morph into a disaster zone with snacks, toys, and games dominating the space. Car organizers also promote safety, removing clutter that could interfere with safe driving.
Below is a list of the ten best car organizers for everyday driving and the occasional road trip.
---
1. Tidify
Overall Best Car Organizer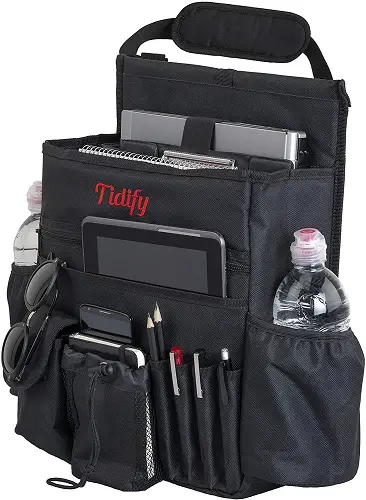 Price: $$
Material: 600D polyester
Mounting: Hanging
Special Feature: Adjustable / Portable
Color: Black
Tidify organizers provide the ultimate convenience, durability, and value for money.
This versatile front and backseat car organizer adjusts to hold small and large items alike, including mobile phones, water bottles, pens, and laptops, allowing for seamless organization and easy reach.
It consists of 600D polyester material with padded headrest sleeves for excellent durability, portability, and stain-resistant functionality.
Best for: Office workers and others who need their essentials in and out of the car daily.
---
2. Foxbox
Best Front Seat Car Organizer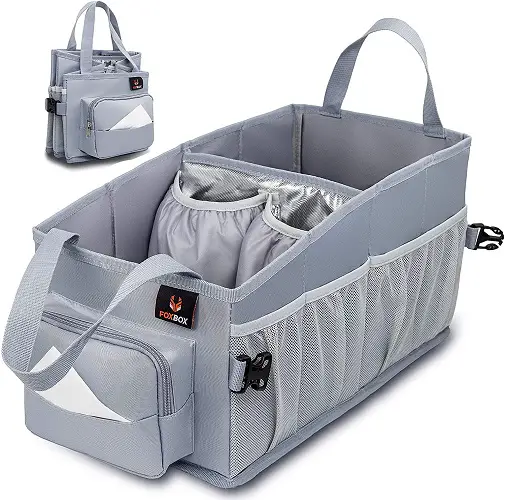 Price: $$
Material: Polyester
Mounting: Free-standing
Special Feature: Portable
Color: Grey
Front seat car organizers from Foxbox provide top-notch style, functionality, and convenience. They are made from durable, high-quality polyester for intensive use.
The capacity is also impressive; it can hold wipes and two one-gallon jugs of fluid for the ultimate convenience. In addition, this tote has two handles and back straps for seat belt attachment compatible with Toyota, Nissan, Dodge, Ford F150, Subaru, Jeep, Chevy, and Honda vehicles.
Best for: Everyday drivers who need to securely store and reach items in the front passenger seat easily.
---
3. Pushingbest
Best Backseat Car Organizer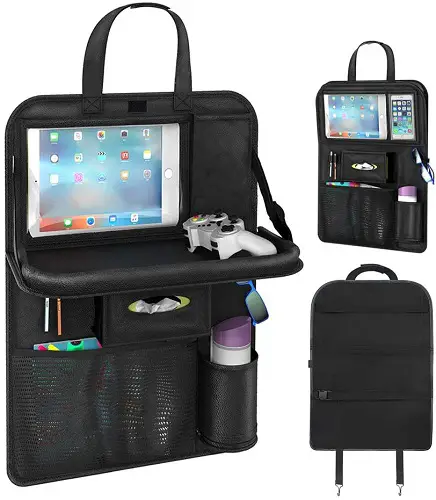 Price: $$
Material: Faux leather
Mounting: Tabletop/Surface
Special Feature: Foldable
Color: Black
This premium-quality organizer is durable and versatile, coming with a foldable tray for convenience and three adjustable Velcro straps for stable attachment during bumpy rides.
This car organizer also features a water bottle pocket, stretchy mesh pockets, and a transparent pocket for a 7 to 8-inch tablet. Coming in at 1.76 lbs. it is also lightweight enough for unencumbered everyday use.
Best for: Preventing young adults and kids from getting bored on long drives.
---
4. Lusso
Best Gear Car Seat Organizer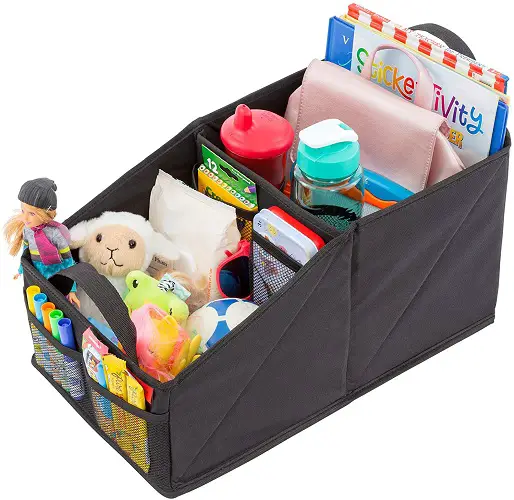 Price: $$
Material:
Mounting: Free-standing
Special Feature: Reinforced sides / Drink holders
Color: Various
The Lusso gear car seat organizer is unique in that it comes with unparalleled legroom and excellent storage capacity. Place everything from toys, books, water bottles, and more inside for secure and convenient storage.
It consists of high-quality polyester and is versatile enough to fold away when not in use. However, rear passengers can't access the central armrest when using this car organizer.
Best for: Parents that take kids on daily school runs.
---
5. My Specialty Kids
Best Car Organizer For Kids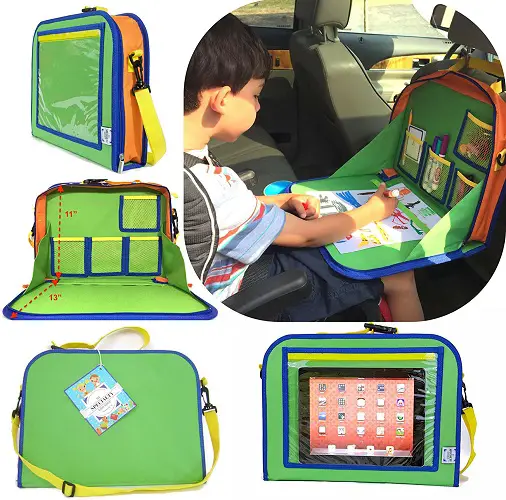 Price: $$
Material: 600D Polyester
Mounting: Wall mount
Special Feature: Adjustable / Portable
Color: Various
These colorful and non-toxic car organizers from My Specialty Kids are ideal for toddlers and younger children. They are perfect for keeping munchkins entertained on short and long drives, enabling them to watch kids' movies on their tablets or do their homework,
It is also lightweight and durable enough to double as a backpack for extra versatility and comes in various colors to capture little ones' attention.
Best for: Young children who need an all-in-one organizer and backpack.
---
6. Amazon Basics
Best Budget Trunk Organizer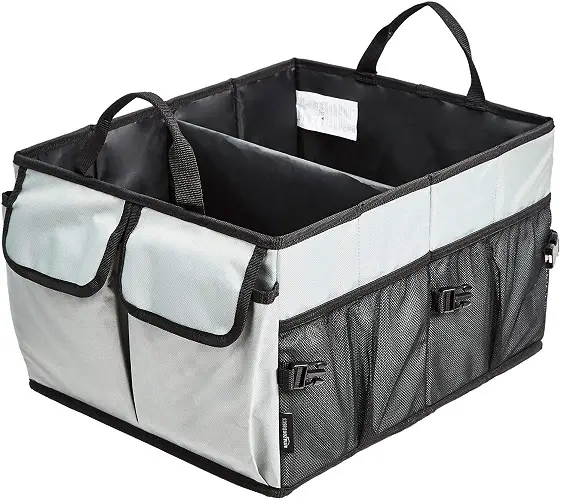 Price: $$
Material: Polyester
Mounting: Free-standing
Special Feature: Frustration-free packaging
Color: Various
This trunk organizer sits in the trunk of your car, SUV, or truck for safe and convenient storage. It is incredibly roomy with several smaller storage sections, including a stretch compartment and four mesh pockets.
It is incredibly durable and sturdy and, as it's made of polyester, provides for easy cleaning and maintenance. It is also collapsible when not in use.
Amazon Basics backs this heavy-duty organizer with a one-year limited warranty.
Best for: Budget-conscious car owners that need a durable trunk organizer.
---
7. Cocoon
Best Sun Visor Car Organizer


Price: $$
Material: Ballistic nylon
Mounting: Visor mount
Special Feature: Hands-free storage
Color: Black
Style, function, and durability come together in a unique storage solution that takes up minimal space. This car organizer is perfect for hands-free organization and is especially handy at safely storing small, delicate items such as sunglasses, tech accessories, and notepads.
It provides endless configurations for storage with sturdy Velcro straps for movement-free retention.
Best for: Those that prefer easy hands-free reach to their items.
---
8. KMMotors
Best Minimal Car Organizer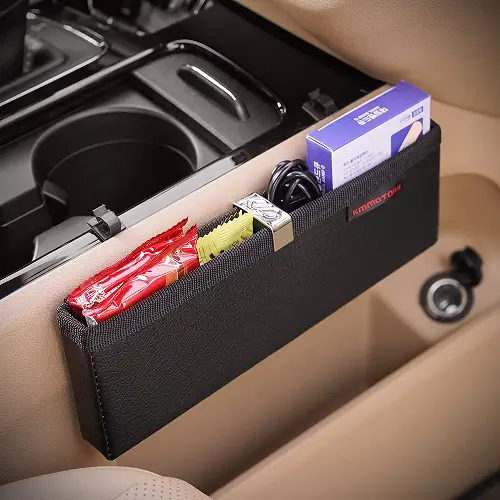 Price: $
Material: Cloth
Mounting: Car-seat-side / Over-the-door
Special Feature: Portable / COVID-friendly
Color: Black
This pocket-sized organizer wedges between the front passenger seat and center tunnel for convenient and seamless storage. Perfect as a piggy bank, sanitizer, mask, and napkin container for easy reach while driving. There is also space for a smartphone, wallet, and drink.
Best for: Easy reach of smaller items while driving
---
9. Oasser
Best Waterproof Organizer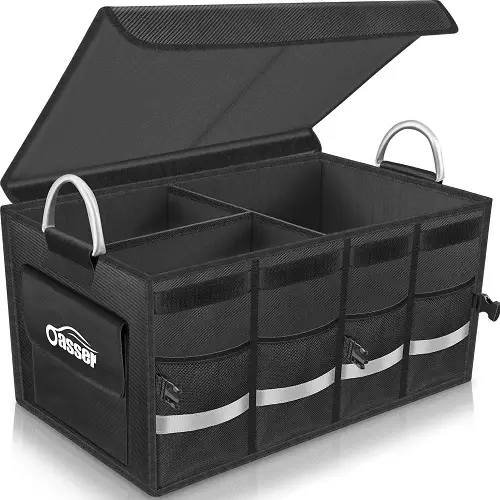 Price: $$
Material: Polyester and aluminum
Mounting: Free-standing
Special Feature: Extra durable
Color: Black
This waterproof trunk organizer, built to last, helps you store items safely in the trunk without fear of them sustaining damage. It consists of 1680 waterproof Oxford cloth and is reinforced by aluminum, density board, and pearl wood for secure storage and easy handling.
The Oasser collapses for easy storage when not in use. It is also versatile; fold it in half, and it fits the passenger seat.
Best for: Long-distance family travel.
---
10. AutoExec
Best Durable Organizer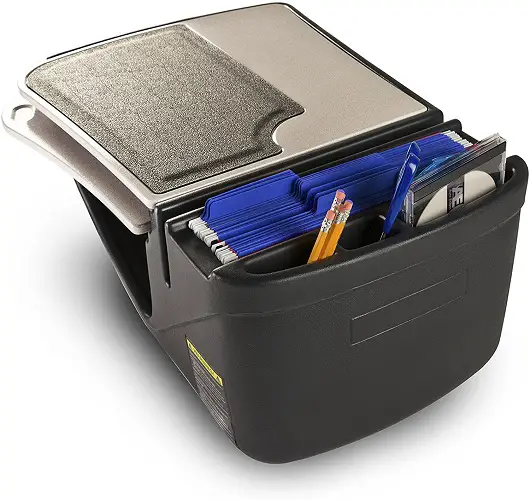 Price: $$$
Material: Plastic and felt
Mounting: Free-standing
Special Feature: Non-skid, on-the-go storage
Color: Various
AutoExec's GripMaster is the perfect front seat storage for the busy business executive that needs a versatile storage solution. This sturdy car organizer is the perfect on-the-go office.
There's a pull-out compartment to write on and a hidden compartment to keep valuables or confidential material out of sight. Expect this durable specimen to serve you well for years.
Best for: Keeping writing materials and mobile equipment within easy reach.
---
What Is A Car Seat Organizer?
Car organizers provide an efficient way to organize loose items in the car. These can include:
Emergency essentials (water, tissue paper, batteries, torches, flares)
Kids' entertainment items
Phones, chargers, and other electronics
These organizers can fit between free spaces or specifically in the front and back seat, sun visor, or trunk. They come in different sizes, materials, colors, and configurations, providing the ultimate in-car storage solutions.
---
How To Choose A Car Organizer
When choosing car organizers, one should consider the following factors to get the best value:
Functionality
A car organizer should first be functional. These products are for organizing loose items of different shapes and sizes, which means that they should have the compartments necessary to contain these items.
The organizer should also suit the user. Kids may find it ideal to use a tabletop-style organizer, while adults could use any organizer as long as it stores their items properly.
Cost
An organizer should fit the user's budget. While it isn't necessary to shell out the big bucks for one, it makes sense to buy a good-quality organizer that will last a while. Typical costs range from $15 – $35, but premium models cost upwards of $100 to several hundreds of dollars.
Durability
It is essential to get a durable car organizer, regardless of the cost. Doing so ensures dependability and longevity.
A car organizer should also withstand the bumps on the road to avoid spilling contents, including fluids.
In-car placement
Where will the car organizer fit inside of the car? This is a vital question to ensure the correct purchase.
A front-seat car organizer suits someone who practically lives out of their car, such as a traveling sales representative. Similarly, back seat organizers are essential if kids and young adults are in the car.
On the contrary, a trunk organizer might be better suited for those that just need storage that they can occasionally access.
Convenience
A car seat organizer should be easy to clean, use, and maintain. Choose a model with washable, stain-proof material for easy cleaning. Also, check the ease of accessibility and use of the various compartments and Velcro fastenings or zips.
---
Conclusion
When choosing a car organizer, consider the use it will provide to realize the best value. While most are similar, balancing durability, functionality, usability, and cost should ensure a prudent purchase.
Consider the layout and dimensions of the interior of the car and who will be riding inside the car for the best fit.
We are committed to helping car owners keep their cars in mint condition. Check out some guides on cleaning and detailing for proper vehicle maintenance.

Garry is the happy owner of a funky 2018 Nissan Juke Ti-S AWD. After growing up around his family's mechanics shop, he is passionate about bringing budget-friendly car care to every driver. Garry has a business degree and is a car enthusiast.